7th Medium-term Business Plan
Investor Relations
7th Medium-term Business Plan
From FY 2018, the Ishihara Sangyo Kaisha Group has launched its Seventh Medium-term Business Plan toward 2020, its 100th anniversary year.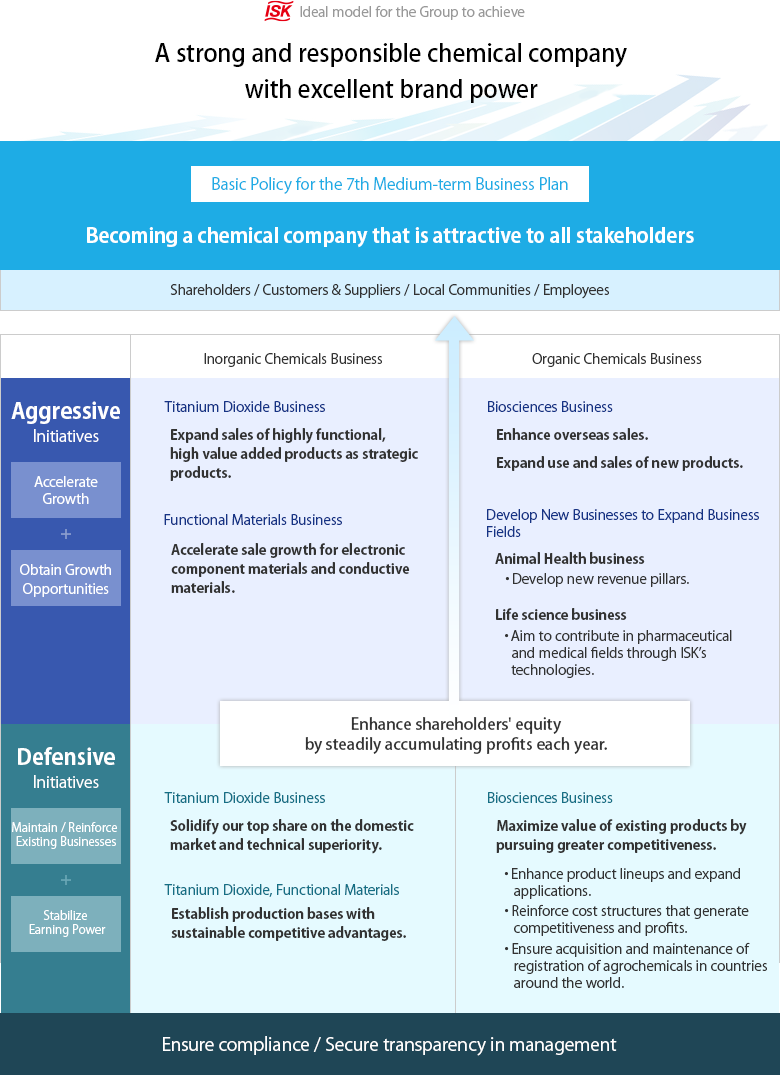 Basic policy
~ Becoming a chemical company that is attractive to all stakeholders ~
Toward FY 2020, the final year of the Plan and our 100th anniversary year, while solidifying our footholds in existing businesses, this Mid-term Plan is aimed at "becoming a chemical company that is attractive to all stakeholders" by reinforcing aggressive initiatives for further growth.
We will steadily accumulate profits each year to enhance shareholders' equity while establishing robust revenue and financial bases capable of withstanding changes in external environments, and will thereby resume dividend payments as early as possible during this Mid-term Plan period.
Consolidated business numerical targets
Unit: 100 million yen
FY2018 projected
FY2019 projected
FY2020 projected
Net sales
1,090
1,200
1,310
Operating income

(operating margin)

44 (4%)
80 (7%)
121 (9%)
Ordinary income
33
69
108
Net income attributable to owners of parent
18
49
81
Return on equity (ROE)
3%
7%
10%
Foreign exchange rate (average)
110 JPY/USD, 130 JPY/EUR
Business policy and strategies by segment
Inorganic Chemicals Business
Business policy
Provide true value for customers and expand profits continuously by "one-a-kind" materials.
Action plan

● Titanium dioxide

◯

Solidify our top share on the domestic market and technical superiority.

◯

Expand sales of highly functional, high value-added pigment items.

Expand sales of pigments for extremely higher weather resistance, ink, matte finishes, and special effect.

◯

Establish production bases with sustainable competitive advantages.

Establish production bases (equipment, operational skills, personnel) with a view to the future.

● Functional materials

◯

Expand sales for electronic component materials and conductive materials as a core.

Electronic component materials
Expand sales by taking advantage of strengths in handling various dielectric materials, from high-purity titanium dioxide to barium titanate.
Conductive materials
Expand sales taking advantage of the whiteness and stable anti-electrostatic performance.

◯

Advance development into new materials and technologies ahead of the times

Advance development into new materials and technology based on innovative ideas that account for the changing times, beyond inorganic and organic business boundaries.
Organic Chemicals Business
Business policy
Realize a sustainable business scale and earning power as an R&D-oriented business.
— Taking steady steps to prepare becoming a truly global company recognized in the world agrochemicals market by expanding our global share —
Action plan

● Agrochemicals

◯

Maximize the value of existing products by pursuing greater competitiveness.

Expand the applicable range of existing products and develop new mixed formulations.
Reinforce cost structures and manufacturing systems that generate competitiveness and profits.

◯

Enhance overseas sales.

Establish new sales bases in Asia and the Americas.
Enhance and expand bases capable of promoting the Company's sales policy with strong initiatives.

◯

Expand use and sales of new products.

Expand use and sales of four new agrochemicals in major markets.

● New businesses

◯

Protect the health of companion animals with animal health product employing a new action mechanism.

Facilitate the smooth sales launch of animal health product in Japan and accelerate their development in Europe and the U.S.

◯

Bio-pharmaceutical HVJ-E, having two characteristic antitumor effects

Steadily advance the phase-2 clinical trial led by doctors of Osaka University, our joint development partner, thereby establishing partnerships with drug companies.