Products
Organic Intermediates (Pharmaceutical raw materials)
Product List and Structure
Product List
α

-CF3-Pyridine
| | | | |
| --- | --- | --- | --- |
| | Abbreviated name | Chemical name | CAS No. |
| | 2,6-CTF | 2-Chloro-6-(trifluoromethyl)pyridine | 39890-95-4 |
| | 3,2,6-ACTF | 3-Amino-2-chloro-6-(trifluoromethyl)pyridine | 117519-09-2 |
| | 2,6-ATF | 2-Amino-6-(trifluoromethyl)pyridine | 34486-24-3 |
| | 2,3,6-DCTF | 2,3-Dichloro-6-(trifluoromethyl)pyridine | 89719-90-4 |
| | 2,3,4,5,6-TCTF | 2,3,4,5-Tetrachloro-6-(trifluoromethyl)pyridine | 22652-31-9 |
| | 6-TFNA | 6-(Trifluoromethyl)nicotinic acid | 231291-22-8 |
| | 3,6-HmTF | 6-(Trifluoromethyl)pyridine-3-methanol | 386704-04-7 |
| | 6-TF-3-CHO | 6-(Trifluoromethyl)pyridine-3-carboxaldehyde | 386704-12-7 |
| | 2,6-CTF-3-CAM | 2-Chloro-6-(trifluoromethyl)pyridine-3-carboxamide | 386704-05-8 |
| | 2,6-HmTF | 6-(Trifluoromethyl)pyridine-2-methanol | 131747-53-0 |
| | 2,6-HTF-3-CAM | 2-Hydroxy-6-(trifluoromethyl)pyridine-3-carboxamide | 116548-03-9 |
| | 6-TF-2-CO2Et | Ethyl 6-(trifluoromethyl)picolinate | 1010422-92-0 |
| New | 2,6-CTFNA | 2-Chloro-6-(trifluoromethyl)nicotinic acid | 280566-45-2 |

β

-CF3-Pyridine
| | | | |
| --- | --- | --- | --- |
| | Abbreviated name | Chemical name | CAS No. |
| | 2,6,3-DCTF | 2,6-Dichloro-3-(trifluoromethyl)pyridine | 55304-75-1 |
| | 2,3,5-DCTF | 2,3-Dichloro-5-(trifluoromethyl)pyridine | 69045-84-7 |
| | 2,5-CTF | 2-Chloro-5-(trifluoromethyl)pyridine | 52334-81-3 |
| | 2,3-CTF | 2-Chloro-3-(trifluoromethyl)pyridine | 65753-47-1 |
| | 2,3-HTF | 2-Hydroxy-3-(trifluoromethyl)pyridine | 22245-83-6 |
| | 2,5-ATF | 2-Amino-5-(trifluoromethyl)pyridine | 74784-70-6 |
| | 2,3-ATF | 2-Amino-3-(trifluoromethyl)pyridine | 183610-70-0 |
| | 2,5-CmTF | 2-Chloromethyl-5-(trifluoromethyl)pyridine | 128790-14-7 |
| | 2,5,6,3-TCTF | 2,5,6-Trichloro-3-(trifluoromethyl)pyridine | 80289-91-4 |
| | 3-TFPA | 3-(Trifluoromethyl)picolinic acid | 87407-12-3 |
| | 3,5-CTF | 3-Chloro-5-(trifluoromethyl)pyridine | 85148-26-1 |
| | 2,5-HmTF | 5-(Trifluoromethyl)pyridine-2-methanol | 31181-84-7 |
| | 3-TF-2-CO2Et | Ethyl 3-(trifluoromethyl)picolinate | 952182-76-2 |
| | 5-TF-2-CO2Et | Ethyl 5-(trifluoromethyl)picolinate | 128072-94-6 |
| | 3,5-CTF-2-CO2Et | Ethyl 3-chloro-5-(trifluoromethyl)picolinate | 128073-16-5 |
| | 2,5-MTF | 2-Mercapto-5-(trifluoromethyl)pyridine | 76041-72-0 |
| | 2,3-MTF | 2-Mercapto-3-(trifluoromethyl)pyridine | 104040-74-6 |
| | 2,5-HTF | 2-Hydroxy-(trifluoromethyl)pyridine | 33252-63-0 |
| | 2,3,5-ACTF | 2-Amino-3-chloro-5-(trifluoromethyl)pyridine | 79456-26-1 |
| New | 3-TF | 3-(Trifluoromethyl)pyridine | 3796-23-4 |

γ

-CF3-Pyridine
| | | | |
| --- | --- | --- | --- |
| | Abbreviated name | Chemical name | CAS No. |
| | 2,6,4-DCTF | 2,6-Dichloro-4-(trifluoromethyl)pyridine | 39890-98-7 |
| | 2,4-CTF | 2-Chloro-4-(trifluoromethyl)pyridine | 81565-18-6 |
| | 2,4-ATF | 2-Amino-4-(trifluoromethyl)pyridine | 106447-97-6 |
| | 4-TF | 4-(Trifluoromethyl)pyridine | 3796-24-5 |
| | 2,3,5,6,4-TCTF | 2,3,5,6-Tetrachloro-4-(trifluoromethyl)pyridine | 122599-19-3 |
| | 2,6,4-ACTF | 2-Amino-6-chloro-4-(trifluoromethyl)pyridine | 34486-23-2 |
| | 2,5,4-DCTF | 2,5-Dichloro-4-(trifluoromethyl)pyridine | 89719-92-6 |
| | 4-TFNA | 4-(Trifluoromethyl)nicotinic acid | 158063-66-2 |
| | 4-TF-2-CO2Et | Ethyl 4-(trifluoromethyl)picolinate | 1171919-08-6 |
| New | 2,6,4-DATF | 2,6-Diamino-4-(trifluoromethyl)pyridine | 130171-52-7 |

Bis

-CF3-Pyridine
| | | | |
| --- | --- | --- | --- |
| | Abbreviated name | Chemical name | CAS No. |
| | 2,3,6-CBiTF | 2-Chloro-3,6-bis(trifluoromethyl)pyridine | 175136-26-2 |
| | 2,6,3,5-DCBiTF | 2,6-Dichloro-3,5-bis(trifluoromethyl)pyridine | 142889-02-9 |
| | 2,4,5-CBiTF | 2-Chloro-4,5-bis(trifluoromethyl)pyridine | 109919-25-7 |
| | 3,5-BiTF | 3,5-Bis(trifluoromethyl)pyridine | 20857-47-0 |
| | 3,5,2,6-DCBiTF | 3,5-Dichloro-2,6-bis(trifluoromethyl)pyridine | 122599-10-4 |
| | 2,6-BiTF | 2,6-Bis(trifluoromethyl)pyridine | 455-00-5 |
| | 2,4,6-CBiTF | 2-Chloro-4,6-bis(trifluoromethyl)pyridine | 81565-21-1 |
| New | 2,4,6-ABiTF | 2-Amino-4,6-bis(trifluoromethyl)pyridine | 112110-08-4 |

Please refer to the product catalog for individual structures.
The products of small volumes (1, 5 or 25 g) marked "※" in the catalog
Sold through FUJIFILM Wako Pure Chemical Corporation. Please contact its sales depertment or distributer for these products.
100 g or more volume of marked compounds, or other products in the catalog
Contact us directly. (See the contact address below.)
We can not only provide the cataloged compounds, but also provide consultation for the compounds you propose.

Structure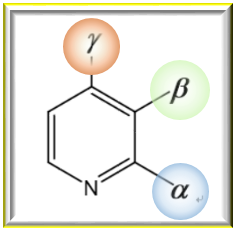 The compounds which have CF3-groups on their α–position (2-position), β-position, (3-position), or γ–position (4-position) of pyridine ring are collectively called α-CF3-pyridine, β-CF3-pyridine, or γ-CF3-pyridine, respectively. And the compounds which have two CF3-groups on their same pyridine rings are collectively called Bis-CF3-Pyridine.
Inquiry Contacts about Organic Intermediates (Pharmaceutical raw materials)
Pharmaceutical Sales & Marketing Division, Life Sciences Business Development Headquarters

E-mail:
organic_med@iskweb.co.jp

TEL:+81-6-6444-5811
FAX:+81-6-6444-5878