About ISK
Corporate Governance
Basic Policy on Corporate Governance
In addition to making contributions to social development, protection of life and environmental preservation, ISK strives constantly to respect our shareholders, customers, suppliers, local communities and employees while maintaining transparency in business activities abiding by laws and regulations. In order to enhance corporate value by maintaining steady business growth and securing profitability, efforts to improve business transparency, reliability and corporate health are among management's most important concerns, and we have worked hard to strengthen corporate governance through business management and enhanced internal controls founded on compliance.
Board of Directors
The Board of Directors holds at least one meeting every month, in which it deliberates and makes decisions on key issues affecting the Company, reports on implementation and progress in business activities and action plans, takes note of business performance, and discusses any problems or issues that need to be addressed. The outside directors monitor the Company's execution of business activities from an independent and fair position, without direct involvement in business activities.
In order to speed up decision-making by the Board of Directors and efficiently monitor and assess progress in important activities and projects, the Company has established an Executive Management Committee under the Board of Directors. The Executive Management Committee makes decisions and holds discussions on important matters pertaining to management and business activities, as well as submitting matters for discussion and reporting to the Board of Directors. We have also introduced an executive officer system with the aim of speeding up decision-making related to business activities.
Auditing Structure
Corporate Auditors
In principle, the Board of Auditors holds meetings once a month. Corporate Auditors attend important company meetings, including every meeting of the Board of Directors and Executive Management Committee, and constantly obtain information on the company's operations from Directors, executive officers and employees in order to gain a full grasp of the company's decision-making processes and business activities, as well as working to improve the auditing function of the Company as a whole in partnership with independent public accountants and the Office of Internal Audit.
Internal Auditing
The Office of Internal Audit audits to ensure the compliance with laws and regulations and operation efficiency, as well as overseeing other issues. It is also responsible for the assessment and monitoring of internal controls over financial reporting.
Basic Policy for the Internal Control System
The Company's "Basic Policy for the Internal Control System" has been set up in accordance with the provisions of the Corporation Law of Japan and the associated Enforcement Regulations of the Corporation Law. ISK's basic policy for internal control is outlined below;
1. Organizational Structures to Ensure that Directors and Employees Carry Out Work Activities Appropriately and In Line with Relevant Regulations and Articles of Incorporation
The Company has adopted a management structure that places priority on compliance with laws, rules and societal norms.
The Company has established a code of conduct that stresses the importance of compliance activities, and makes sure that Directors and employees follow them strictly.
The Company has established a Compliance Committee, headed by the Director in charge of Compliance. This committee creates and implements plans to develop and maintain the compliance structure.
Company policy dictates that should it be discovered that any Director or Employee of the Company has acted illegally, transgressed the Company's articles of incorporation, or acted in a way that raises the risk of a legal transgression, the incident must be reported immediately. Furthermore, all records of the reports and investigation are to be kept strictly confidential to ensure that those who report such incidents are not subject to repercussions.
The Company has established an Office of Internal Audit to conduct regular audits, and which reports directly to the Executive Director President.
2. Recording and Managing Information Regarding the Activities of Directors
The Company maintains written records of the minutes of Board of Directors meetings, proposals submitted for consideration, and other important documents used in the course of Directors' duties. These documents are stored and managed in a way that corresponds to the legal regulations governing official documents, as well as all internal rules and regulations.
3. Rules and Structures Intended to Manage Risk
A set of risk management guidelines has been established to express the Company's basic stance on risk management and to help guard against the risk of unexpected losses.
The Company seeks to identify the various types of risk that emerge in the course of normal business activities, taking steps to ensure that each sector of business operations is aware of risk factors that may affect them, and takes steps to manage such risks.
When events occur that could have an important impact on the Company's management and business activities, the Corporate Risk Management Committee takes action under the rules developed to manage risk, and assumes control of the Operating Divisions in order to minimize and address problems.
4. Structures to Ensure that the Execution Activities of Directors are Carried Out Efficiently
The Board of Directors meets regularly, a minimum of once a month, to make decisions on important issues that effect the Company, and to oversee the activities of its Directors. In the case of priority issues that relate to business implementation, the Executive Management Committee, made up of Board members who are associated with the issue, discusses it first, and then reports to the entire Board for a final decision.
The Company establishes clear and specific numerical targets for achievement, in an effort to improve management efficiency.
The Board of Directors allocates work responsibilities to individual executives, and each Director's progress in completing the business tasks allocated to them is reported back to the Board of Directors.
5. Measures to Ensure that Business Activities Conducted by a Group Company, which Consists of the Company in Question and its Parent and Subsidiary Companies, are Appropriate
The Company has established regulations and guidelines for the basic policies concerning execution of its affiliate companies' business activities, and for the various work processes concerning management of affiliated companies.
Subsidiaries have the responsibility to uphold the same code of conduct as the Company, and must adhere to the same standards of compliance employed by the group as a whole.
6. Regulations Governing Employees Assigned to Assist the Duties of Corporate Auditors
Corporate Auditors may occasionally request that the Company assign personnel to assist them in carrying out their auditing activities. When this need arises, Directors cooperate with Corporate Auditors to select individuals who are able to provide effective assistance.
7. Measures to Ensure the Independence of the Aforementioned "Assistants" from the Influence of Directors
When Corporate Auditors ask to have employees assigned to assist with their activities, the views of the Board of Auditors are given top priority in selecting, transferring and evaluating such employees. This is intended as a way to ensure that the employees can act independently, without influence from Directors.
8. Structure for Reporting Information to Corporate Auditors, Including Reports Provided by Directors and Employees
Corporate Auditors attend all meetings of the Board of Directors and the Executive Management Committee,as well as other important company meetings. They are also provided with access to information regarding all important proposals and resolutions made by management personnel.
Directors and employees are required to provide necessary reports and information to Corporate Auditors and the Board of Auditors ,as stipulated in the Company's internal reporting regulations.
9. Structures to Ensure the Efficiency of Auditing Activities
The Executive Director President holds regular meetings with auditors in order to exchange opinions regarding the condition of auditing activities and how to improve them.
To ensure the effectiveness of auditing activities, Directors are responsible for ensuring that there is close cooperation between Corporate Auditors and the Office of Internal Audit.
10. Structures to Ensure the Reliability of Financial Reporting Activities
In order to ensure the reliability of financial reporting, the Company and its affiliate companies have established a structure to operate appropriately, and to improve and evaluate internal controls governing preparation of financial reports in accordance with the Financial Instruments and Exchange Law and other relevant regulations.
11. Basic Stance on Measures to Prevent Interaction with "Antisocial Groups"
The Company strictly prohibits any activity or interaction with "antisocial groups" which may threaten public order or present a danger to the general public. The Company shall be resolute in avoiding any such contact, and will under no circumstances give in to unreasonable demands or pressure from any such group.
In order to ensure that no such relationships or activities arise, a section of the General Affairs Division has been assigned specifically to cooperate with police, corporate lawyers and other outside organizations to combat the influence of corporate racketeers. This division will collect relevant information on a daily basis and establish a system to deal with unexpected incidents involving such groups.
Corporate Governance Structure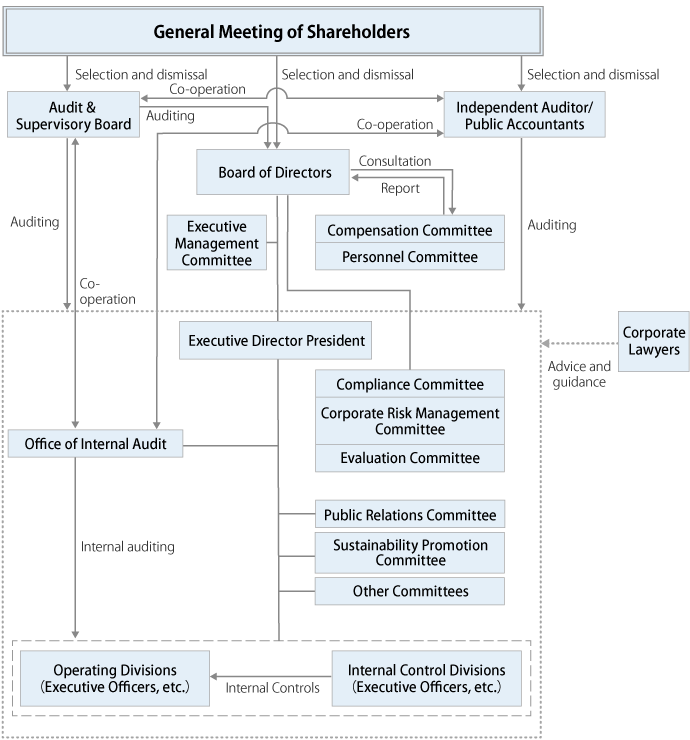 Corporate Profile